"Maytag" is a popular American appliance brand which has been catering to both homeowners and business proprietors since it was founded by Frederick Maytag in 1893. While this group was originally titled the Maytag Washing Machine Company, its name was changed in 1925 to Maytag, Inc. Despite hitting a few roadblocks, especially during the Great Depression of the 1930's (involving strikes which took military intervention to squash), Maytag remained strong as a company.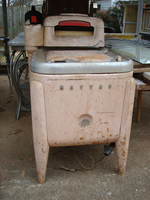 Ownership was passed down by generation, falling into the hands of Fred Maytag II, grandson of the founder. The company produced equipment in support of the war effort in the 1940's, as well as ranges and refrigerators. The business ceased production of these appliances by 1960, as the laundry appliance industry had been growing rapidly since 1950 and Maytag wished to limit its competition as a small fish in a large pond. This didn't last long though, as they continued to put out new lines of kitchen appliances including food processors, portable dishwashers, and more. The company grew rapidly as more and more households began to be equipped with convenience electronics. Under guidance by the new proprietor, as well as the first president of the company outside of the Maytag family, E.G. Higdon, Maytag, Inc. grew to a whopping 18,000 employees nationwide.
Sales expanded even further and studies showed that 70% of American homes had functioning washers and dryers by the late 1970's. In 1986, Maytag made its first major acquisition, purchasing Magic Chef, which nearly doubled the size of the group. Seeing the success of this tactic, the group began purchasing other competing companies as well as groups in related market niches, such as Thomasville Brand Furniature and Hoover UK. These major business decisions led to even more expansion of the corporation, allowing them to invest in more companies, etc. until Maytag was responsible for a massive market share of the appliance industry.
They manufactured a wide variety of products, including their original washers and dryers (re-branded and released in lines, such as the Neptune line) as well as ovens, fridges, and dishwashers. With an expansion of available appliances, they also began to take their business overseas, allowing the group to reduce production costs and increase consumerism. Now that Maytag played a major role in the industry, it attracted more attention from larger companies. After several failed attempts from rivals, Whirlpool completed its acquisition of the corporation on the 1st of April, 2006.