A Brief History of Speed Queen Appliances
Speed Queen is an American manufacturer of large appliances. Based in Ripon, Wisconsin, this company is a subsidiary of Alliance Laundry Systems LLC, meaning that ALS is its parent company. This group produces a wide variety of commercial as well as residential utility units (everywhere from 25 pound to 250 pound capacities!). Speed Queen Brand appliances are very common to see in hotels, apartments, and laundromats.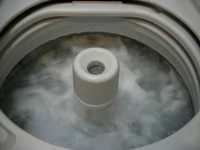 This company was cofounded by friends and hardware store owners Joe Barlow and John Seelig back in 1908, originally going by the clever name of "Barlow and Seelig Manufacturing." Their first prototypes were created simply by implementing their own ideas and intending to make improvements on other people's designs of the washing machine, then a very new technology. Their first modifications included experimenting ways to increase efficiency of hand-powered washing machines using high speed gearing. After purchasing a patent, the business partners released a limited number of their first version under the name "White Cloud," which stuck until they switched the brand's name to "Speed Queen" in 1928.
The partners didn't stop there—in 1911, the company released its first electric motor-powered washer. Again, this technology was just being introduced to the public, but Joe and John didn't waste any time. Their brand was heavily advertised and they began working on more and more new product ideas in an effort to grow their empire. Their swinging wringer dropped in 1915, allowing for more efficient drying of clothes (freshly washed in a Speed Queen brand appliance of course). In 1922 they began lining their washers with nickel and copper, which then evolved into their iconic stainless steel design, both of which were firsts in the industry which just goes to show how much influence and innovation these two entrepreneurs had.
During the early 1940's, like many other metal-working manufacturers in the U.S. during this era, Speed Queen halted production of their appliances and ran their factories around the clock to provide various supplies for the war effort, including 20mm shells and parts for planes, guns, and tanks. The company was commended for their patriotism.
Since its humble beginning, Speed Queen has seen massive growth and improvement, as well as a large increase in market share and consumerism. Each year seems to bring even more expansion, such as the 20,000 square foot addition in 2013, or the 106,000 feet added in 2015. However, proprietorship of the company has changed quite a few times since it began, most recently when Alliance Laundry Systems made the acquisition of "Raytheon" (the previous owner) in 1998.